Micrometeorites are small pieces of rocks who travel trough our solar system. They were attracted by the Earth's gravity and end up on Earth through the atmosphere. Due to this journey, they change a lot in appearance and composition. They don't look like the bigger and heavier meteorites.
You can also find micrometeorites around your house, roof or raingutter. I will be happy to tell you exactly how this works during the (Dutch) lectures or if you use the available teaching material that you can obtain below.
In the beginning I found it very difficult to properly see and understand what I saw through my  large magnifying glass. Was this a micrometeorite or not? There are so many types of round balls and often it is all from our own industry what we see. How do you see the difference?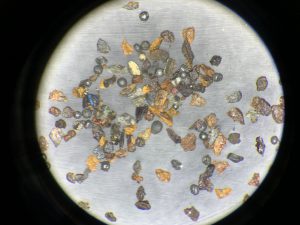 Can you spot the micrometeorite in the photo? (you will find the answer at the bottom of this page).
To give more people a good start in advance, I sell teaching materials that of course consist of many photos, tips and tricks. Of course especially the micrometeorite itself. So you can learn for yourself what it looks like in real life. You can view it with your own magnifying glass or microscope and recognize micrometeorites better and better. With all the examples and descriptions you learned that quickly.
I don't have a webshop because I only want to get some upgrades or extras for this hobby with the sale. No purpose for making money. After all, it takes quite some effort to find these spherules and this way I can continue doing.
A teaching package consists of a booklet with all the tips and tricks I use, a microscope slide with micrometeorite and a (digital) photo. You can also opt for a booklet with a tube with magnetic material from the Netherlands. You can search the micrometeorite(s) yourself.
If you are not able for whatever reason to collect material, you can of course also buy a tube with magnetic material containing micrometeorites. Prices are from 60 euros and micrometeorite is guaranteed.
A package:
Booklet, slide/box with micrometeorite and photo €60,-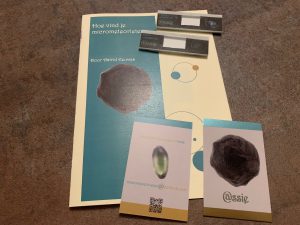 :
Below you can make your micro wishes known without obligation by filling in the form. I will response as soon as possible.